About Me!
Me and my Beetle!
So you wanna know about me, eh? Well, here's some info you might find interesting or boring. Take your pick:
FULL NAME: Alena Wasserman
BIRTHDATE: 10/09/83
SIGN: Libra
FAVORITE BANDS: Pearl Jam, U2, DMB,
Nirvana, Our Lady Peace, Sarah Mclachlan,
Matchbox 20, Fuel, Nelly Furtado
Previous school: Nicolet High School
Current College: UW-Whitewater
Favorite Foods: Ice cream, potatoes,
pizza, ramen noodles!
Favorite Pastimes: watching TV, listening
to music, shopping, singing, playing
with my birds
My favorite TV shows are The Simpsons, Seinfeld, Friends,
The Wonder Years, Fresh Prince of Belair, and I'm sure I'm forgetting some.
I'm at Whitewater and majoring in social work to
work for an adoption agency such as Lutheran Social Services.
I was secretary for the Latinos Unidos organization on campus
and also write for their newspaper.


Artisans are the temperament with a natural ability to excel in any of the arts, not only the fine arts such as painting and sculpting, or the performing arts such as music, theater, and dance, but also the athletic, military, political, mechanical, and industrial arts, as well as the "art of the deal" in business.
Artisans are most at home in the real world of solid objects that can be made and manipulated, and of real-life events that can be experienced in the here and now. Artisans have exceptionally keen senses, and love working with their hands. They seem right at home with tools, instruments, and vehicles of all kinds, and their actions are usually aimed at getting them where they want to go, and as quickly as possible. Thus Artisans will strike off boldly down roads that others might consider risky or impossible, doing whatever it takes, rules or no rules, to accomplish their goals. This devil-may-care attitude also gives the Artisans a winning way with people, and they are often irresistibly charming with family, friends, and co-workers.
Artisans want to be where the action is; they seek out adventure and show a constant hunger for pleasure and stimulation. They believe that variety is the spice of life, and that doing things that aren't fun or exciting is a waste of time. Artisans are impulsive, adaptable, competitive, and believe the next throw of the dice will be the lucky one. They can also be generous to a fault, always ready to share with their friends from the bounty of life. Above all, Artisans need to be free to do what they wish, when they wish. They resist being tied or bound or confined or obligated; they would rather not wait, or save, or store, or live for tomorrow. In the Artisan view, today must be enjoyed, for tomorrow never comes.
Atisans make up between 15 to 20 percent of the population, which is good, because they create much of the beauty, grace, fun, and excitement the rest of us enjoy in life.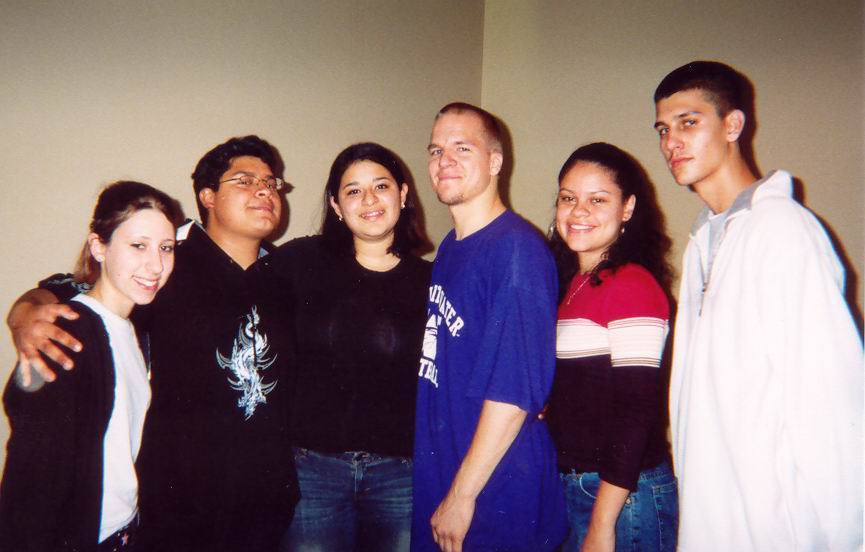 Me with the board of Latinos Unidos (2003-2004)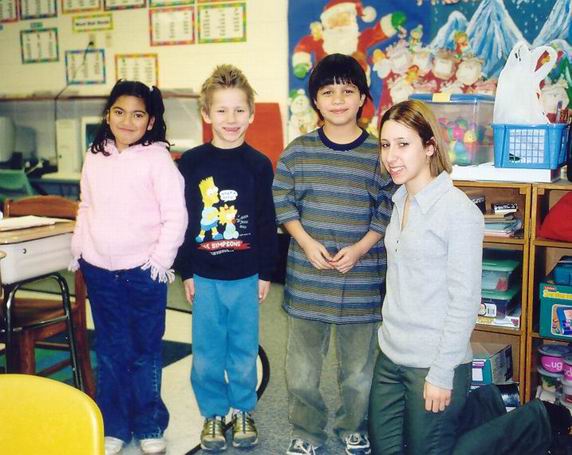 Me and some of the kids I volunteered with at Washington Elementary School in Whitewater


I have two parakeets which I love very much! Their names are Tookie and Beaker. I also had a very cute and cuddly
hamster named Diesel. I used to have an amazing dog named Shira who unfortunately passed away in November of 2002. I got a tattoo of her
on my arm to remind me everyday that her presence is always with me.